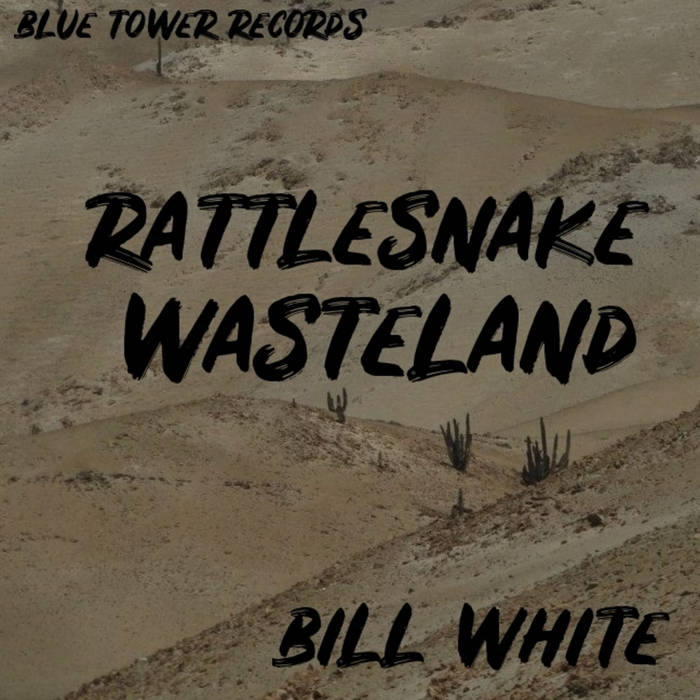 listen to rattlesnnake wasteland here…..https://billwhite.bandcamp.com/album/rattlesnake-wasteland
This album is dedicated to Doug Hamilton, an Arizona cowboy who plays a fantastic rock and roll saxophone.  Doug was into Bruce Springsteen when I wasnt,  It was 1980, and we had a new wave band up in Seattle Washington.  Had I been writing songs then like the ones on Rattlesnake Wasteland, the band might have stayed together a little longer. As it happened we only recorded four songs and played one show together.  Here is the video we made.  https://www.youtube.com/watch?v=mig8bEjDUNc&list=PL90E66F839FBB7688&index=31&t=0s
I wasnt aware of Springsteen until his Born to Run album, and I caught up with him on that tour.  Cant say I was impressed. The show struck me as a pretentious blend of Dylan and Van Morrison with a dash of Don McClean. Once he got though his own songs, though, he did a pretty good bar band encore of oldies.
I didnt listen to his subsequent albums until joining Dougs band in 1980.  Every day I showed up to rehearsal the band was upstairs listening to The River which pissed me off because I didnt see how we could make any original music if we listened to what other people were doing.  So I would go down to the basement and wait for them to come down and plug in.  I loved working with Doug, both writing songs with him and singing harmonies as well as being inspired by that screaming saxophone of his. but was always somewhat at odds with the ambitions and objectives of the band,
I finally came around to an appreciation of Springsteen with his Born in the USA album, but my enthusiasm didnt last. He lost me when he broke up the E Street band to play with a bunch of Hollywood rent boys.  He new songs were weak and  the act was hyperactive and empty.  Eventually he settled down and made The Ghost of Tom Joad in 1995 an acoustic album that led me back to the one I missed, Nebraska, which I had overlooked as it came right after The River.  After this I became an on again off again fan, sometimes listening, sometimes not.   Then a friend of mine sent me a three disc bootleg of a special show he did at the Somerville Theatre right outside of Boston.  It was more a conversation with the audience than a concert, with him playing his songs alone and talking about them, as well as answering questions from the audience. Finally I felt I was getting to know what he was all about beneath that facade.
I was also starting to appreciate that facade.  If Elvis had freed the body, and Dylan had freed the mind, then Springsteen was setting both the body and mind into motion.  His tenacity and endurance was overwhelming as he continued to perform his mammoth concerts while others, like Dylan, were relaxing into static comfort zones.  During the dreadful Bush and Obama years, Springsteen was an incarnation of the mythical American spirit as he invigorated audiences around the globe with both elegaic and critical visions of a promised land betrayed.  When I finally made the decision to leave the United States to become a expatriate in Peru,  Thunder Road was my farewell song.
Since then I have been looking into Springsteens work, trying to understand what it is that makes it so meaningful to so many people on so many walks of life.  One of his main attributes, I believe is that he really cares about people.  He often does a special song for specific audiences  I was particularly moved by his performance of Victor Jaras Manifesto in Chile in 2013.  He didnt have to learn and perform this song.  He did it for the people of Chile, in memory of their martyred hero and it honor of the power of music itself.  https://www.youtube.com/watch?v=JNQm1Plu63k
So, after all this, I have to admit I am still not a hardcore Springsteen fan, but he has become, over these many years, a profound influence over my idea of what popular music can and should be all about.  When I was writing the song Heartbreak Avenue, I found that it was impossible to sing those two words together without invoking Springsteen.  Then I wrote Rattlesnake Wasteland, two more words that had the voice of Springsteen inside them. So I faced the fact that Springsteen had become more than an individual voice but a genre unto itself.  In the early days, there were plenty of singers, from Bob Seger and John Mellencamp to  Southside Johnny and John Cafferty, who worked the Springsteen lode.  Todaym however, he seems a lone voice in the wilderness.  With Rattlesnake Wasteland, I have not tried to fake a Springsteen album, any more that Mickey Spillane was trying to be Raymond Chandler.  Im just adding my voice to the choir.
X
Rattlesnake Wasteland
by Bill White
Free streaming for all Bill Whites albums is available here https://billwhite.bandcamp.com/